Justin Platt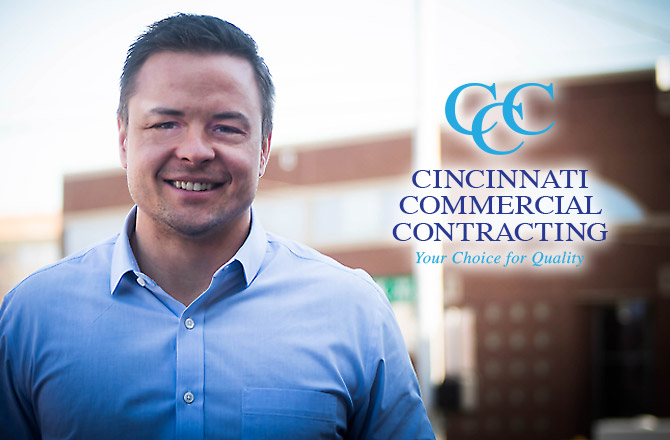 Building a strong team that understands what clients need and want has always been our goal. When Justin Platt, started at CCC as a summer intern 13 years ago he launched a lifetime career devoted to creating exceptional construction experiences for clients.
"With most special project work, you are working in someone else's "house" while they are living there as well. That always has to be at the front of your thought process. I constantly put myself in the client's shoes to be sure we are mitigating any negative effects on their business."
At the age of 14 Justin began his first job with a custom home builder in his hometown of Dayton, Ohio. That experience instigated his curiosity about construction, and led to his decision to major in Construction Systems Management at Ohio State University. As a college student Justin landed an internship with Cincinnati Commercial Contracting, and that experience would change his life.
After graduation Justin was offered a full time position with CCC as a Construction Superintendent. He moved into the Project Manager role, learning that the onsite, hands-on management of all aspects of each project was critical to successful construction projects. Justin was a natural with CCC clients, guiding them through the sometimes confusing logistics of commercial construction. Being able to manage multiple tasks and teams, creating strong client relationships and successfully completing every project earned Justin his next role at CCC: Principal and Vice President with an equity position in the company.
Justin's experience working with a diverse client base and his understanding of all aspects of commercial construction are utilized in his role leading the Special Projects division. CCC's Special Projects division handles renovation of existing businesses, usually interior construction for restaurants, retail, healthcare and office spaces. The biggest challenge for Special Projects is maintaining CCC's very high standards of workmanship with as little disruption to the client as possible.
That kind of thinking is why clients and tradesmen alike value working with Justin. The value of strong relationships with everyone you work with is a core principle at CCC, and Justin demonstrates that everyday.
See some of our Special Projects here.