Phil Beatty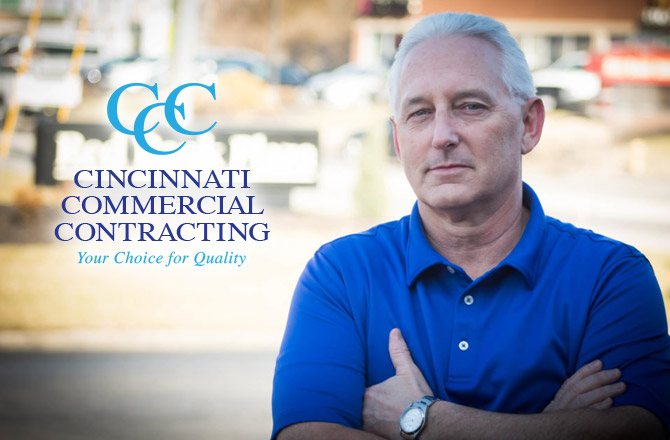 Cincinnati Commercial Contracting builds commercial projects around the Tri-State area, that much is pretty well known. What some don't realize, however, is that CCC's work also includes commercial land development as well as constructing and managing office building and retail complexes. But the ball doesn't stop there. CCC recently added Phil Beatty to our Special Projects Division so we could bring our general contracting skills and project management expertise to unique and smaller projects that include interior improvements, renovations, expansions, repairs and retrofits.
Phil came to CCC about a year ago to help us bring those special projects to our design • build business. A Columbus, Ohio native, Phil got a taste of what retail was all about during high school when he landed a job as a stock boy at Woolco Department Stores. At the same time Phil was working with his father, learning the construction trade. His dad, who served as a Navy Sea Bee electrician during WWII and Korea, was also a general carpenter and shared this experience with his son, teaching him all aspects of the industry. As one of six boys in the family, getting one-on-one time with his father made a huge impact on Phil.
Construction was in his blood. After graduating from Columbus Business University, Phil worked for a custom home builder, learning all aspects of construction from the ground up. He moved into a management position and continued working on the residential side of construction. For six years Phil owned his own building company until a great opportunity in Dayton instigated his move from residential to commercial construction.
Today Phil focuses on helping CCC tenants design and build-out their business' spaces so they can improve results and retain happy customers.
"The best part of the special projects division is the variety of our projects – there are always new client problems we help resolve from one job to the next. It can be challenging to maintain timelines and budgets for our clients, but I actually enjoy and thrive on that."
The CCC Special Projects team works with our clients to meet the needs of their growing businesses. When asked about an especially memorable project Phil lights up sharing the story.
"I really liked working with the owners of a dance school expansion where we more than doubled the size of their existing facility. Just working with the owners and seeing the transformation of the space was a great experience."
Phil still gets into his woodworking shop whenever he has the chance, just to rekindle the feeling he had working with his dad. That's where Phil learned the most about relationships!
Like all CCC team members, Phil knows that our business is really about relationships: building them, maintaining them and creating great outcomes for our clients.
Contact CCC to discuss your next project today.